ASCEND Community Clean Up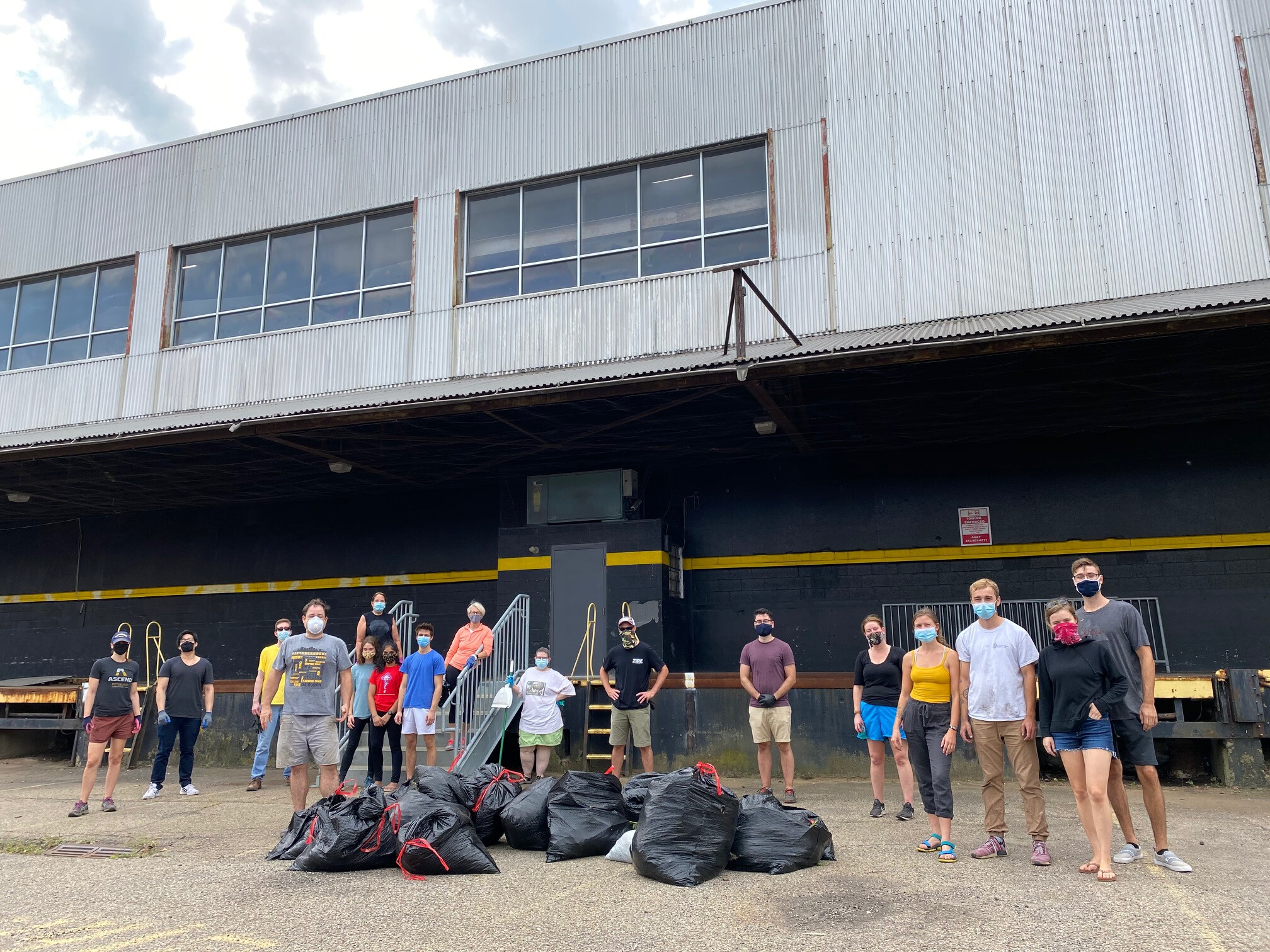 Another successful South Side neighborhood cleanup! Ben, one of our outdoor guides and gym staff who happens to live only a block away from ASCEND was thrilled to see so many community members show up to keep our community clean. Ben joined Mike from the South Side Community Council to lead a group of volunteers to clean around our beloved neighborhood. 
We scheduled as best as we could to provide a full slate of events for our September 12, 2020 cleanup. Starting at 8:30am we offered Big Free Yoga at ASCEND Pittsburgh, immediately following, our community cleanup began, after the cleanup we offered a complimentary climbing session to our group of volunteers - a great Saturday morning to be sure!
For the second time, ASCEND teamed up with the South Side Community Council to clean the sidewalks and streets around the gym. We gathered outside of ASCEND for a socially distanced discussion of the game plan. After our quick discussion regarding continuous use of masks and social distancing protocols, our group of 18 community volunteers began to make our way to the 22nd street train bridge. We worked to clear away built up sediment and train oils on the sidewalks, clear out as much of the overgrown weeds as possible, and of course gather all of the trash in site. We quickly finished with the 22nd Street bridge and moved onto the 21st Street bridge. UPMC security employees were thrilled at the work we were doing and offered snacks and water for our hard work. After making quick and effective time at the two train bridges, we had a bit of time left and moved on to the base of ASCEND's building on Jane Street. We cleared out trash from under the loading docks, cut down the weeds and swept up broken glass and debris. 
At the end of the day, we filled over 20 trash bags with debris, trash, and weeds and were able to follow social distancing protocols for the entire day! Working on the community like this for the morning was a very fulfilling experience and left all of our volunteers excited to be stewards of our community. Despite COVID-19 the second South Side Community Cleanup was a great success thanks to a great group of volunteers and the leadership of the South Side Community Council.
------------------------------------------
------------------------------------------
Lend a helping hand!ASCEND is teaming up with South Side Community Council to host another Community Clean Up! We will be focusing on the blocks around ASCEND, more specifically under the train trestles on 21st and 22nd streets. Meet up at ASCEND Pittsburgh at 10a on September 12th. (Right after Big Free Yoga!) Gloves and supplies will be provided, but feel free to bring your favorite gardening gloves and broom! We will be picking up trash, clearing out weeds, sweeping sidewalks, etc. This is a family friendly event, so bring the kiddos along! After the clean up, we can reward ourselves with a light climbing session together (free admission for non-members).Registration is requested, but not required. We will need an estimate of how many supply kits we will need.Masks are required during the clean up event and when you are in the ASCEND building.
Questions? Email: [email protected]
------------------------------------------
------------------------------------------
From our Clean Up in April 2019
Our first Community Clean Up was a hit! Lily, one of our new managers, shared her love for outdoor stewardship while leading the group with Michael from South Side Community Council. Read on to learn all about it! 
Waking up early on a Saturday isn't for everyone, but we are thankful for our friends that came out Saturday, April 27th to help us clean near ASCEND!
ASCEND teamed up with the South Side Community Council to clean the sidewalks and streets around the gym. Of course we started at ASCEND to discuss the game plan and to fuel up with coffee and baked goods. Then we took to the streets! Our group of 16 community members walked with trash bags in hand and ultimately collected 15 bags worth of cigarette butts, discarded food containers, and other left behind litter. It felt great to lend a hand in our neighborhood and our neighbors appreciated it too. Runners, bikers, and folks on their porches thanked us as we passed. The sun warmed our faces as we worked through the morning. A few volunteers even got to use a power washer under the railroad bridge at 22nd and Mary to wash away mud, debris, and graffiti. As we rounded up and put our tools away, everyone agreed that it was great way to help out the community and spend some time beautifying our neighborhood! Thank you again to everyone who came out and the South Side Community Council.
Take a look below for information on our next clean up. See you there!
Lily got into hiking towards the end of college, and the more she hikes, the more she wants to give back to the environment. Lily is currently implementing sustainable swaps in her everyday life to do her part of caring for the planet!
------------------------------------------