Steel Town Throw Down - Fall 2022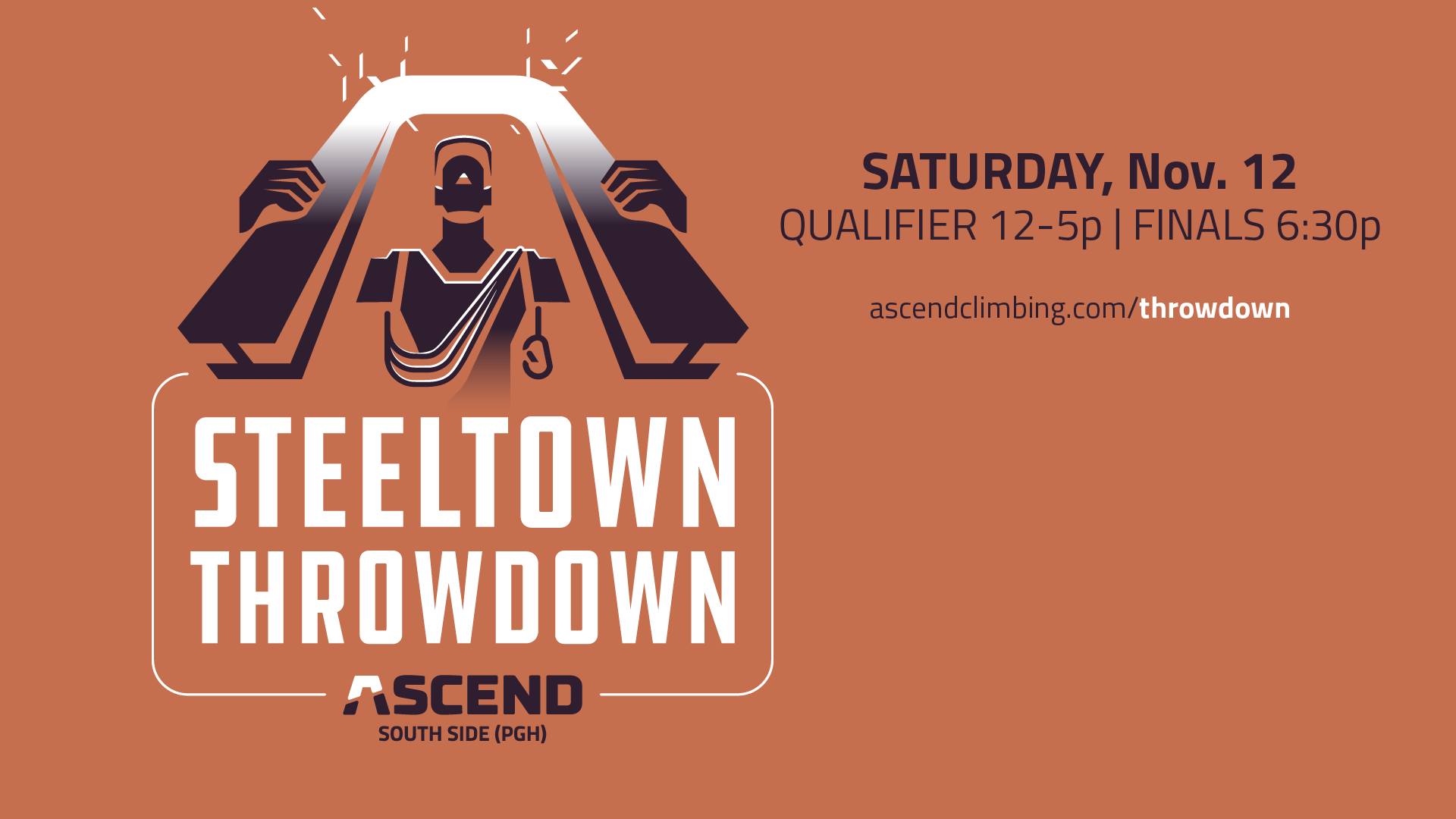 MTNB (Men, Trans, Non-Binary) Results
WTNB (Women, Trans, Non-Binary) Results
FEATS-O-STRENGTH WINNERS
Test Your Grip: Chase Wrinn (170.6), Audrey Russin (91.4)
Max (Strict) Pull-ups: Brede Laug (31), Kristin Rhoa (12)
Fastest Lap: Augustine McDermott (11 sec), Elise Villella (47 sec)
Fastest Rope Climb: Brady Russin (1.72 sec), Emma Noss (3.78 sec)
-------
We haven't been able to host a Steel Town Throw Down to this scale since Fall 2019, so GET READY because we are going to BRING IT! The ASCEND Steel Town Throw Down, scheduled for Saturday, November 12, 2022, is Pittsburgh's premier climbing competition, designed for anyone who likes a little friendly competition while having a great time! We'll continue to add to this event post, so please check back often for the most up-to-date information.
COMPETITION DETAILS
Format
: The qualifying round will be a redpoint competition, which means that many climbs of varying difficulty will be set for the competition. All the boulder problems are available to all of the climbers at once, and the competitors may attempt the climbs as many times as they wish within the given time period.
Scoring
: Top five scores count toward your total. 6th, 7th, etc scores may come into play in the event of a tie. All scores must be peer judged by one person familiar with climbing rules who saw you complete the climb and LEGIBLY noted on scorecard.
Categories:
There will be two official categories, one of which you must select. Men, Trans, Non Binary (MTNB) OR Women, Trans, Non Binary (WTNB)
Divisions
: You know yourself best, so we're asking you to select which division you'll compete in. Please be aware that once scores have been reviewed, ASCEND reserves the right to move a competitor up a division, but never down. The reason for this is to be as fair as possible, and to prevent a stronger climber from entering themselves into a lower division in an attempt to ensure a first place finish.
Recreation
: V1-V3 | consistently sends purple circuit (V1-V3), often sends yellow circuit (V2-V4), works on blue circuit (V3-V5)
Intermediate
: V3-V5 | consistently sends blue circuit (V3-V5), often sends orange circuit (V4-V6), works on pink circuit (V5-V7)
Advanced
: V6+ | consistently sends pink circuit (V5-V7), often sends red circuit (V6-V8), works on white circuit (V7-V9)
Awards
: The top three MTNB and WTNB finishers in the Recreation, Intermediate, and Advanced divisions will receive premium merchandise prizes for their valiant efforts! Technically, the top three Advanced finishes will be the 7th, 8th, and 9th finishers since the top 6 are moving to the Finals round.
Finals
: The top six MTNB and WTNB finishers from the Advanced field will move to Finals, where they will compete in front of an energetic and supportive live audience! They will attempt to onsite four problems on the front of the purple arch, having 4 minutes per boulder. All finalists will split a $3,500 cash purse (1st = $500, 2nd = $350, 3rd = $300, 4th = $250, 5th = $200, 6th = $150)!
USAC Collegiate Qualifying Round (Bouldering): The USA Climbing Collegiate Qualifying Round will follow a modified redpoint format that is used at many USAC local and championship events. For details on the format, scoring, eligibility, rules, and registration, please visit this page. Competitors may compete in both competitions, but must register through USAC. USAC Collegiate competitors will not need to pay additionally to enter the Steel Town Throw Down, but must register at the front desk to receive their scorecard. Complete both scorecards at the same time, but be sure to turn in your USAC scorecard before 3p.
SCHEDULE (Sat. November 12)
12-5p:
Redpoint Qualifying Round
Registration and warm-up begins at 11aCompetitors have all 5hrs to compete, but can start late or stop earlyUSAC collegiate competitors must compete from 12-3p3-5:30p: 
Feats of Strength Contests -
 Compete in as many as you'd like! The top MTNB + WTNB finishers for each will receive a $20 ASCEND gift card!Max pull-upsFasted timed circuit loop on the woody wallStrongest gripFastest hand-over-hand rope climbLongest wall sit (occurring as an all-play activity at 5p)6p: 
Awards
and pre-finals entertainment6:30-8p:
EPIC
Finals
+ Beer + Live DJ
FACILITY CLOSURES (Don't forget that ASCEND Point Breeze and Youngstown will be open for you!)
Sunday, November 6 - No desk side purple arch boulder (only after 5p)Monday, November 7 - No purple arch boulder (only after 8p)Tuesday, November 8 - No purple arch boulder, no blue boulder (only after 8p)Wednesday, November 9 - No bouldering (only after 8p)Thursday, November 10 - No boulderingFriday, November 11 - No boulderingSaturday, November 12 - CLOSED for the competitions (spectators welcome at no cost!)Sunday, November 13 - 100% open for redemption
Note: Most yoga, fitness, and climbing classes will run throughout the week, but check calendars to ensure availability. ASCEND South Side will be closed all day on 11-12-22 for the event (including yoga, fitness, training, and rope-wall), but spectators are strongly encouraged to attend and cheer at no cost!
Also due to the terrain closures to prepare for this competition, be aware of the following adjustments to the A-Team South Side practice schedule:Monday, Nov. 7th - No changes.  Practices as normal.Tuesday, Nov. 8th - No changes.  Practices as normal.Wednesday, Nov. 9th - COMP and ADV team practice at ASCEND Point BreezeThursday, Nov. 10th - REC and INT team practice at ASCEND Point BreezeFriday, Nov. 11th - ADV team practice at ASCEND Point Breeze.  No practice for COMP team members or Steel Town Throw Down participants.Saturday, Nov. 12th - Steel Town Throw Down in South Side.  REC AND INT team practice at ASCEND Point BreezeSunday, Nov. 13th - No changes.  Practices as normal.
SPECTATOR INFORMATION
Spectators are welcome and encouraged at no cost! The event will also feature:
Food Trucks:
La Chicas
[4-7p]Tasty Beverages:
East End Brewing Company (EEBC)
 will begin pouring beer and non-alcoholic beverages promptly at 5p until the end of finals and will be donating $1 to the 
Southwestern PA Climbers Coalition (SWPACC)
 for every drink poured throughout the night - please give them a high-five!Sponsors:
Urban Tree
 (Pittsburgh, PA) - Tree Reclamation. Fine Woodworking.
Evolv
Wild Country
Edelrid
Sterling
Metolius
Kinetik
Asana
DMM
Organic
On Crux
Midnight Lightning
Cotopaxi
La Sportiva