Steel Town Throw Down - Fall 2019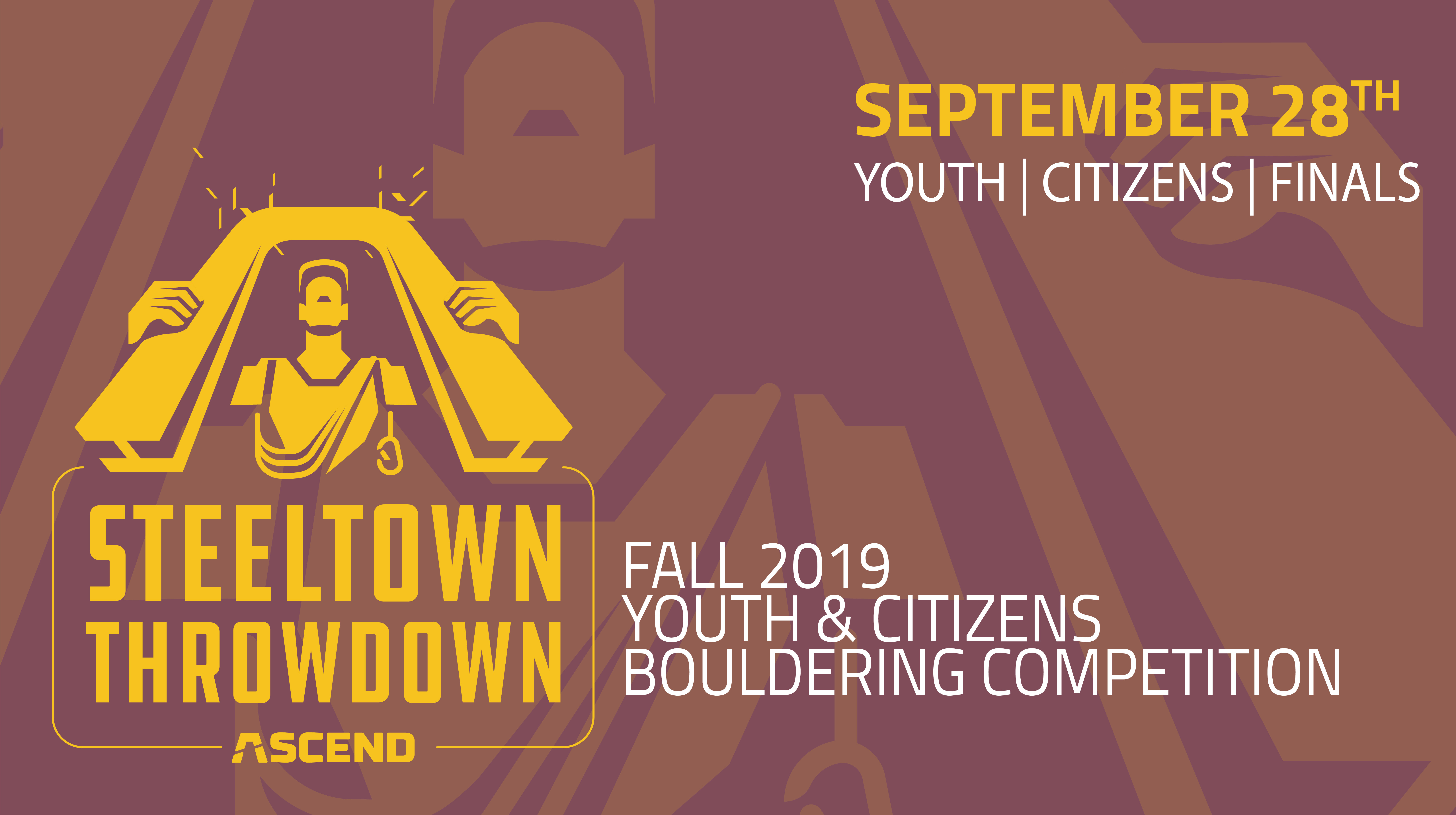 STEEL TOWN THROW DOWN - FALL 2019 - RESULTS
[Please note that this was a first go at a very simple live stream, and that we have ambitions to continue to stream comps at a much higher level of production!)
---
STEEL TOWN THROW DOWN - FALL 2019
The ASCEND Steel Town Throw Down is Pittsburgh's premier climbing competition, designed for anyone who likes a little friendly competition while having a great time, and is scheduled for Saturday, September 28, 2019! In addition to competitors, we're in need of volunteers to judge the youth competition, so take a look below if you're itching to pay it forward! We'll continue to add to this event post, so please check back often for the most up-to-date information.
COMPETITION DETAILS
USAC Locals
Format
: Modified redpoint competition - The youth competition will follow a similar format as the USA Climbing modified redpoint system that is used at many USAC local and championship events. Each category (male and female Jr, A, B, C, D) will compete on a circuit of 8-12 climbs. The final scores will be determined by the cumulative scores of all 8-12 problems. Competitors will have a three hour time period to attempt each problem up to 10 times.
Scoring
: All scores will be determined and entered by a volunteer judge.
Divisions
: Competitors will be placed in age divisions based on USAC guidelines (male and female D, C, B, A, JR).
Eligibility
: In order to compete in the USAC Locals competition, participants must be members of USA Climbing. During registration the morning of the event, ASCEND Staff will be verifying this, so please ensure that you're registered and received confirmation. Participants will have to become members before checking in (can be done online) or else they will not be permitted to compete, without refund. Please note that the 2019-2020 USAC membership season starts on 9/1/19 and membership cannot be purchased until that time.For USAC Membership Overview, please go
HERE
.For up-to-date significant changes to the 2019-2020 USAC season, please go
HERE
.To review the entire USAC Rulebook, please go 
HERE
.
Youth C/D Competition Workshop: We are excited to support USA Climbing's youth education and performance initiative by offering an optional one-of-a-kind Youth C/D Competition Workshop, which is great preparation for Regionals! This program is designed to expose inexperienced young climbers to the on-sight formats of higher-level comps as well as the movements, techniques and strategies needed for success. This 2-hour session will feature:
Intentionally set on-sight comp style C and D routesBouldering exhibition mini-comp with a 3 minutes on/3 minutes off, on-sight formatPost-climbing interactive education session including coaches, route setters, and athletes
Youth climbers new to the sport who are attempting to compete in Regionals and beyond are strongly encouraged to register for this workshop, but even experienced youth competitors are more than welcome to join and expand their skills and comfort levels.
Citizens Competition
Format
: Redpoint competition - competing in a redpoint competition means that many climbs of varying difficulty will be set for the competition. All the boulder problems are available to all of the climbers at once, and the competitors may attempt the climbs as many times as they wish within the three hour time period.
Scoring
: Top five scores count toward your total. All scores must be peer judged by at least two people familiar with climbing rules who saw you complete the climb and LEGIBLY noted on scorecard.
Divisions
: You know yourself best, so we're asking you to select which division you'll compete in. Please be aware that once scores have been reviewed, ASCEND reserves the right to move a competitor up a division, but never down. The reason for this is to be as fair as possible, and to prevent a stronger climber from entering themselves into a lower division in an attempt to ensure a first place finish.V0 - V2 = RecreationalV3 - V5 = IntermediateV6 - V7 = AdvancedV8+ = Open
SCHEDULE (9-28-19)
9a-12p: USAC Youth Locals (8a registration, 8:45a competitors meeting)12:15p: Youth awards and raffle (must be present to win/claim raffle prize)12:30p-2:30p: Youth C/D Competition Workshop2:30p-5:30p: Citizens competition (1:30p registration, 2:15p competitors meeting)6p: Citizens awards and raffle (must be present to win/claim raffle prize)7:30p-9p: EPIC Finals + Beer + Live DJ!
AWARDS & RAFFLE
Finalists Awards: All 10 citizens competition finalists win cash by splitting a cash purse of $5,000 and 1st place finishers take home one-of-a-kind trophies, courtesy of
Urban Tree
!Citizens Awards: Male and female divisional 1st place finishers will be awarded trophies and premium swag!Youth Awards: Youth competitors will be awarded USA Climbing Ribbons!Raffle: Each Steel Town Throw Down competitor will receive one raffle ticket to be entered to win sweet swag packages graciously donated by our sponsors. The youth and citizens raffles will be held shortly after each comp just before awards are announced, so be sure to stick around - anyone can win BIG!
PROBLEM SOLVER CATEGORY
Send as many problems as you can! In addition to competing for divisional placements based on your top five scores, Problem Solvers are also competing for the total number of problems they send. This is a fun way to climb more problems, work on your endurance, and increase your chances of winning! Add to your registration for only $5 or on comp day at anytime for $10.
1st Place = $100 ASCEND Gift Card2nd Place = $75 ASCEND Gift Card3rd Place = $50 ASCEND Gift Card
NOTABLE NOTES
Youth competitors who would like to compete in both comps will be permitted to, but must register for both comps and cannot place in any division or make finals in the citizens comp, because some problems will be used in both comps. They will, however, be eligible to win citizens comp raffle prizes. If you are of a youthful age, but only wish to compete in the citizens comp, you will be permitted to do so and will therefore be treated no different than any other citizens competitor.All competitors must complete an
ASCEND Waiver
- save time and complete this online now!Early Bird pricing available through Saturday, August 31.All competitors have the option to purchase an event t-shirt for only $20 when registering online no later than Tuesday, September 10. Event shirts might be for sale during the event with limited availability, so add one to your registration now! See t-shirt mockup below!
FACILITY CLOSURES
Monday, September 23 - No window side purple boulder (only after 8p)Tuesday, September 24 - No purple boulderWednesday, September 25 - No purple boulder, no blue boulderThursday, September 26 - No purple boulder, no blue boulderFriday, September 27 - No bouldering (facility closes at 8p)Saturday, September 28 - Closed for all of the competitions (spectators welcome at no cost!)Sunday, September 29 - 100% open for redemption
Note: Most yoga, fitness, and climbing classes will run throughout the week, but check calendars to ensure availability. ASCEND will be closed all day on 9-28-19 for the event (including yoga, fitness, training, and rope-wall), but spectators are strongly encouraged to attend and cheer at no cost!
VOLUNTEER
We are in need of volunteers to serve as climbing judges for the youth competition in the morning. All volunteers will receive 2 Day Passes to ASCEND Pittsburgh, and so many high-fives! To learn more and to register to volunteer, please go HERE and help us spread the word!
HOTEL INFORMATION
Holiday Inn Express & Suites Southside for $129++ per night for 9/27/19 - 9/29/19 (special rate expires 9/9/19) - 
BOOK HERE
Hyatt House Pittsburgh-South Side for $169++ per night for 9/27/19 - 9/29/19 (special rate expires 9/6/19) - Use special code 
G-ASPI for corporate or group code
and 
BOOK HERE
 or call 412-390-2477
SPECTATOR INFORMATION
Spectators are welcome and encouraged at no cost! The event will also feature:
Food Trucks:Emporio Meat Ball Truck: 12p - 7pLa Palapa Tacos: 4p - 8pTasty Beverages:
East End Brewing Company (EEBC)
will begin pouring beer and non-alcoholic beverages promptly at 5p until the end of finals and will be donating $1 to the
Southwestern PA Climbers Coalition (SWPACC)
for every drink poured throughout the night - please give them a high-five! If you purchase a silicone pint, shirt, or start or renew your Access Fund/SWPACC membership, we'll throw in a FREE beverage from EEBC! Support a good cause while having fun! Please note that you do not need to purchase a SWPACC pint to drink, but it is STRONGLY encouraged.Sponsors:
Release and Restore Wellness Center
 (Pittsburgh, PA) - A different approach to chiropractic, specializing in trigger point therapy and myofascial release.
Urban Tree
 (Pittsburgh, PA) - Tree Reclamation. Fine Woodworking.
Black Diamond
 (Salt Lake City, UT) - Outdoor equipment and apparel manufacturer.
Evolv Sports
(Buena Park, CA) - Footware, clothing, and accessories made for climbers.
Organic Climbing
(State College, PA) - Bouldering equipment and climbing apparel and accessory manufacturer.
Nugo Nutrition
(Pittsburgh, PA) - Nutrition bars, protein bars, and healthy snacks.
Petzl USA
(Salt Lake City, UT) - Technical equipment manufacturer and educator for sport and professional applications.
Friction Labs
(Boulder, CO) - For athletes who demand better grip.
Racepak
(Boston, MA) - Food and fuel wholesaler for climbing gyms.
Barnana
(Santa Monica, CA) - Organic healthy snacks made from organic bananas.
8BPLUS
(Boulder, CO) - Climbing gear essentials for the sport climbing and bouldering scene.
Butora
(Boulder, CO) - Footware, clothing, and accessories made for climbers.
Premium Holds
 - Holds and volumes: 360 Holds, Cheetah, Simpl, Squadra, Lapis.
Flatholds
- Swiss designed climbing holds.
GNC Live Well