(Staff) Member Spotlight: Nate and Maggie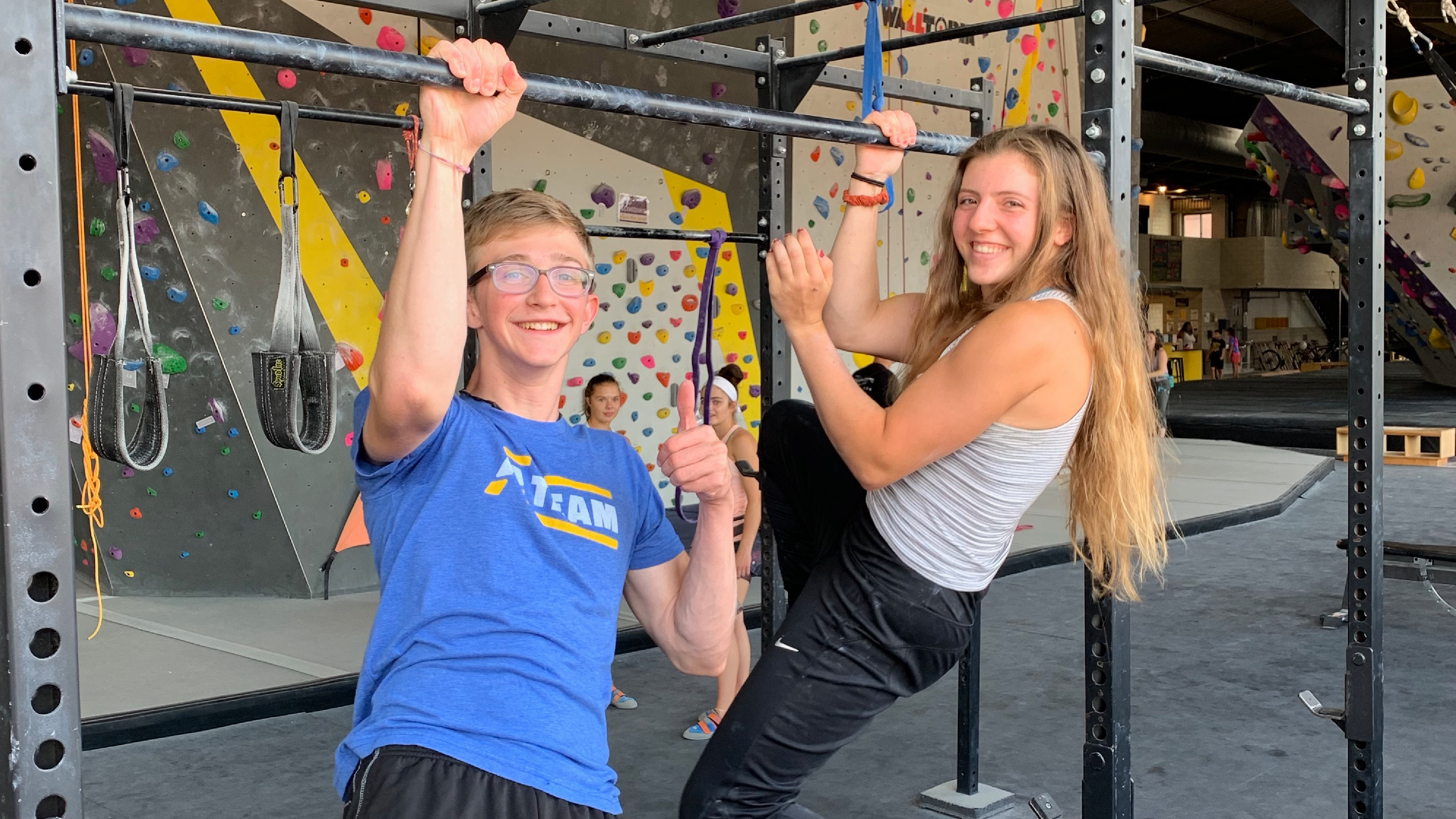 By Luke Alpert
If you look at Nate or Maggie's member ID photo you'll notice one thing: they've grown up. Nate and Maggie represent an incredibly special group in our community: they are the first generation of young people who have grown up at ASCEND.
Maggie started climbing four years ago and has been climbing at ASCEND for over a year. Nate started climbing at ASCEND a few months after it opened its doors. Now they practically live at the gym. In 2019 Maggie has already racked up two podium finishes, winning the Dyno Comp, and placing third in the 2019 Steel Town Throw Down. Nate, a member of ASCEND's A-Team, is eyeing the September throwdown to start his hardware collection. 
Both Maggie and Nate were just hired at ASCEND, they worked their first group party on Sunday, August 19th.
"Why not work here?" Nate says when I congratulate the pair on being hired.
"I spend so many hours here," Maggie says, "this is like a second home."
"For real. Sometimes my mom complains that I'm not home 'cause I'm here too much."
"Yup." Maggie confirms. 
For Maggie, working the party is extra special. She found climbing through attending a birthday party. 
"I started climbing because of how a staff member made me feel," Maggie said, "I'm excited to be that staff member now, to give that to kids as well."
"I'm excited to make other people feel the way we feel in the gym," Nate adds.
Both Nate and Maggie have a passion for climbing that is matched only by their passion for the community they've found through climbing. Through the community and their commitment to improving, enjoying the climb, and connecting with other climbers, Maggie and Nate have been able to grow as climbers and as exceptional young people. 
"Climbing has definitely affected my whole life. When I started climbing I was so shy, a shy homeschooler, but through climbing i've learned to open up, to go into every interaction trying to be as accepting as you want the person to be to you. That's given me confidence in meeting people where they're at and making friends." Maggie says, reflecting on her growth since beginning climbing.
"Yeah," Nate agrees, "climbing has impacted my sense-of self, my self-confidence, how I feel about myself. Two years ago, I wouldn't go up to someone and ask them how they are, and talk to them, now I have the confidence to make new friends and climb hard."
"Also being strong makes you more confident," Maggie says, "I can just bang out ten pullups. It's awesome!"
"Body positivity, it's there, it wasn't, but it's there. The health benefits of climbing, it's better for everything," Nate pauses, "except your fingers."
"Your tendons." Maggie laughs, both Nate and Maggie hold up their hands.
"Yeah say goodbye to those."
"And it doesn't feel like working out." Maggie goes on. "You're just climbing. Except when your working out." 
"Which is fun too! You're getting so much stronger."
"We should get everyone together and have weekly training sessions. After team." Maggie says. Nate nods enthusiastically. 
I ask Maggie and Nate how it feels to become role models at ASCEND, to be on staff, to be winning competitions and climbing the hardest routes in the gym.
"In some ways we look up to the younger kids who are crushing," Maggie laughs.
"I'm glad that we can represent the gym in a way…" Nate adds, "but we can't think of ourselves that highly." 
"You look at the people who are better, and wow, it's amazing." Maggie says.
"It's a never ending chain to getting better."
"And I like getting better," Maggie says, "but I love hanging out with my friends, it makes me enjoy climbing. I'm so thankful for the community, my friends and even beyond that, meeting new people and I'm getting stronger, it's the best part of my day."
"I've been listening to lots of climbing podcasts," Nate says, who regularly comes to ASCEND hours before the routesetters finish and observe their work before getting first tracks on the newest routes. "They're really insightful, you get to hear how other people do things, which really is a part of the community, you want to understand people. I like listening, learning."
"Climbing is one of the few sports when you can just walk up to someone and climb with them and just make a friend." Maggie says.  
"The amount of interesting people you can meet, it's unreal."  Says Nate.
"They give you insight on climbing and your life, it's amazing." Maggie adds.
"It's hard not to feel accepted at ASCEND." Nate says.
For Nate and Maggie climbing is as much about the mind and the body working in tandem as it is about the individual and the community contributing to each other. Every question I ask gets turned back to climbing, growing, and sharing in the process of being more fully human. 
"It's about being the best of yourself." Maggie says.
 "Everyone's trying to make you better," Nate adds.
"It's supportive competition." Maggie says, "you want to be the better you."
"Everyone that climbs is smart too." Nate says. "I swear I learn so much from just being around people. Physics, science, chess."
"We both got really good at chess just by playing with people in the community." Maggie says, gesturing to the chess boards that live in the kitchenette.
 "And they're supportive in that field too," Nate adds. "If I need help in math homework, I can ask Kerrek or Matt."
"Yeah," Maggie agrees, "[the staff] want you to succeed in climbing, but in your life as well, it's amazing."
"I feel like my relative friend group median age has increased through ASCEND, and I feel like it's helped my maturity develop." Nate says as the pair laugh.
"And be less conspicuous. You learn to connect with people. It's not an age thing, you realize it's about learning to connect with people, to meet them where they're at." Maggie agrees, as the pair reflect on their growth at ASCEND.
"I feel like we're also changing their minds on how sixteen year olds act." Nate says. "Maybe that's a little bit of an--"
"Assumption."
"A bit bold." Nate agrees.
"But even how we act, how we climb." Maggie says, demonstrating the confidence she's developed through years of climbing and in this community. "We climb really strong. And the staff, everyone's so nice.
"Yeah, they're my friends." Nate says. 
Both Nate and Maggie are exceptional young people who are committed to growing and positively affecting every community they are a part of. I feel lucky that ASCEND Pittsburgh is one of those communities. 
For my last question I ask them about their climbing aspirations, hoping to illicit a response that doesn't sound like a ghostwritten PR stunt. 
"V10" Maggie says without missing a beat. "We want to get V10 before the end of the year."
"Before Adrien. V10 outside." Nate says. They both laugh. "I wanna do V14," Nate adds, "realistically I can get to V12."
"I feel like if I say I want to do V12 then that's a mental barrier," Nate adds, "so V14. No barriers. Like that pinterest quote, 'If you shoot for the moon, at least you'll land among the stars.'"
"That's not where the stars are!" Maggie laughs, then adds, "I want to think of climbing goals outside of the grades, goals larger climbing grades, 
Then both say at the same time, "Nationals!"
"I want to become a routesetter." Nate adds after a beat. "I'm never leaving this community."
 "Oh yeah." Maggie agrees.
"There's just too many pluses to leave."
"Yeah, and you think about it every day." Maggie finishes.
Catch Nate and Maggie making waves at the Steel Town Throw Down this September 28th, and don't be too intimidated to go say hi in the gym, they're as nice as they sound, ASCEND is lucky to have them and we can't wait to cheer them on at Nationals!