Schenley Oval Challenge - 2021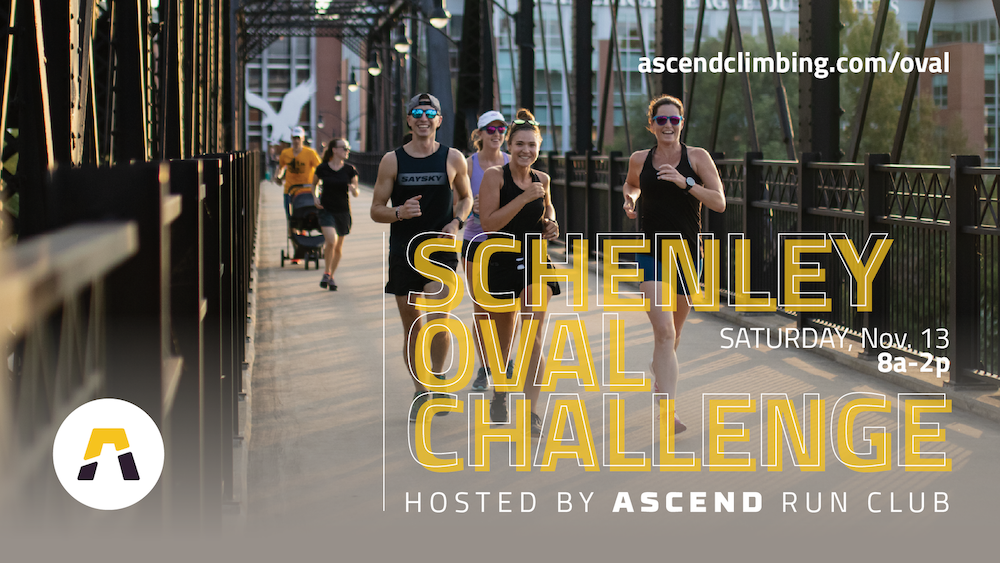 WE DID IT. It was cold and it snowed, but the ASCEND Run Club held its first Schenley Oval Challenge, in support of @pumpedtorun - a downtown Pittsburgh running group composed of residents of local homeless shelters, and PSL volunteer mentor runners. This group is absolutely amazing and they need more volunteers and support, so please check them out and get involved! Together, we raised $115 and received a good amount of shoes, coats, running tights, and other useful running gear. Yinz are the best - THANK YOU. In total 33 brave runners from all over the city, as young as 5 and old as 54, showed up and sprinted as fast as they could around the 992 meter long oval. A few runners kept going and did a good number of laps, mostly to stay warm. The record for the day was an impressive 2:46.2 which is ⚡ fast! Check out the full results and more details about the event at ascendclimbing.com/oval. Curious in joining ASCEND Run Club? We run every Monday night from ASCEND Pittsburgh at 6p in the rain, snow, blistering heat, gale force winds... only minding legit lightning... we're not insane! Learn more and register at ascendclimbing.com/runclub. See you tonight!
SEE RACE RESULTS AT BOTTOM
If you're a runner in Pittsburgh, you've likely run around the Schenley Park Oval. This unique to Pittsburgh running landmark is just shy of 1 km, clocking in at exactly 992 meters or .992 km. The Schenley Oval functions as a pseudo track for many folks doing everything from intervals to just walking. This event is built around and dedicated to that loop.
Given the unique distance and the prominence of the oval, the ASCEND Run Club is hosting a one-of-a-kind time trial challenge, likely to be an annual event! The format is simple... runners attempt to complete one oval loop as fast as possible. Each runner will be hand timed with results placed into the Racetab program for sorting after the event. At the end of the day, results will be tabulated, and likely presented by overall, age, and gender. There will be no prizes, no awards, no swag bags, no fanfare. It's all about your effort, your personal try-hard time, a little bit of fun, and maybe some friendly bragging that sets the stage for next year.
Here's what else you need to know:
Select how many participants you're registering below and answer the questions on the next page.Try to show up roughly 30 minutes before your time slot begins to complete your registration, warm up, and get the lay of the land. If you're running late, don't worry! We'll just work you in to the next heat. The time slots are just to help us loosly plan.The maximum will be 5 runners per lap, but likely will be fewer. So you might start running with a few others, but it's just a time-trail for you.Feel free to time yourself, but our clocked time will be your official time.Runners will only get one registered attempt during the event.This is a FREE event, but runners are encouraged to make a financial or gently used running clothing donation, which will all benefit 
PUMPed To Run
.If you'd like to help out at the event, send an email 
[email protected]
 and 
[email protected]
. This event will be mega laid back, but we could use some help with registration, timing, and getting runners into heats.
RESULTS - SUMMARY
------------------------------------------------------------------
Women
------------------------------------------------------------------
1 Nicole Feng F 22 , 3:21.2
2 Brenna Marzano F 23 , 3:28.7
3 Bridget Palm F 22 , 3:29.0
4 Kristin Rhoa F 32 , 3:34.5
5 Angela Eagle F 50 , 4:06.4
6 Penelope Bard F 13 , 4:08.5
7 Brianna Smith F 21 , 4:23.5
8 Addison Mueller F 21 , 4:24.6
9 Camille Johnson F 27 , 4:35.7
10 Amanda Hardt F 30 , 5:00.5
11 Lisa Mears F 54 , 5:19.2
12 Linnea Rosenbaum F 5 , 7:40.7
------------------------------------------------------------------
Men
------------------------------------------------------------------
1 Marc Migliozzi M 23 , 2:46.2
2 Holden Eagle M 17 , 2:46.3
3 Tolson Bell M 22 , 2:48.1
4 tim flynn M 28 , 2:48.3
5 Sean Poholski M 27 , 2:50.4
6 Jonathan Barnhisel M 17 , 2:56.2
7 Adam Creveling M 26 , 3:00.3
8 Elliot Buera M 18 , 3:00.8
9 Logan Baxter M 16 , 3:01.2
10 Aleff Tashome M 17 , 3:04.8
11 Patrick Bryant M 30 , 3:05.5
12 Leo Deng M 19 , 3:07.0
13 Keltin Grimes M 20 , 3:14.8
14 Ben Kinley M 31 , 3:18.3
15 Will Fowlkes M 20 , 3:24.1
16 Donald Robinson M 29 , 3:34.1
17 Joel Rosenbaum M 41 , 3:40.9
18 Paul Guarino M 37 , 3:44.3
19 Wonjae Kim M 29 , 3:45.4
20 Jeff Baxter M 44 , 3:53.2
21 Luke Rosenbaum M 8 , 6:12.9
==================================================================
==================================================================
RESULTS - BY AGE
MEN 0-10
------------------------------------------------------------------
1 Luke Rosenbaum M Men 0-1 8 , 6:12.9
------------------------------------------------------------------
WOMEN 0-10
------------------------------------------------------------------
1 Linnea Rosenbaum F Women 0 5 , 7:40.7
------------------------------------------------------------------
MEN 11-19
------------------------------------------------------------------
1 Holden Eagle M Men 11- 17 , 2:46.3
2 Jonathan Barnhisel M Men 11- 17 , 2:56.2
3 Elliot Buera M Men 11- 18 , 3:00.8
4 Logan Baxter M Men 11- 16 , 3:01.2
5 Aleff Tashome M Men 11- 17 , 3:04.8
6 Leo Deng M Men 11- 19 , 3:07.0
The Schenley Oval Challenge Page 2 of 4
------------------------------------------------------------------
WOMEN 11-19
------------------------------------------------------------------
1 Penelope Bard F Women 1 13 , 4:08.5
------------------------------------------------------------------
MEN 20-29
------------------------------------------------------------------
1 Marc Migliozzi M Men 20- 23 , 2:46.2
2 Tolson Bell M Men 20- 22 , 2:48.1
3 tim flynn M Men 20- 28 , 2:48.3
4 Sean Poholski M Men 20- 27 , 2:50.4
5 Adam Creveling M Men 20- 26 , 3:00.3
6 Keltin Grimes M Men 20- 20 , 3:14.8
7 Will Fowlkes M Men 20- 20 , 3:24.1
8 Donald Robinson M Men 20- 29 , 3:34.1
9 Wonjae Kim M Men 20- 29 , 3:45.4
------------------------------------------------------------------
WOMEN 20-29
------------------------------------------------------------------
1 Nicole Feng F Women 2 22 , 3:21.2
2 Brenna Marzano F Women 2 23 , 3:28.7
3 Bridget Palm F Women 2 22 , 3:29.0
4 Brianna Smith F Women 2 21 , 4:23.5
The Schenley Oval Challenge Page 3 of 4
5 Addison Mueller F Women 2 21 , 4:24.6
6 Camille Johnson F Women 2 27 , 4:35.7
------------------------------------------------------------------
MEN 30-39
------------------------------------------------------------------
1 Patrick Bryant M Men 30- 30 , 3:05.5
2 Ben Kinley M Men 30- 31 , 3:18.3
3 Paul Guarino M Men 30- 37 , 3:44.3
------------------------------------------------------------------
WOMEN 30-39
------------------------------------------------------------------
1 Kristin Rhoa F Women 3 32 , 3:34.5
2 Amanda Hardt F Women 3 30 , 5:00.5
------------------------------------------------------------------
MEN 40-49
------------------------------------------------------------------
1 Joel Rosenbaum M Men 40- 41 , 3:40.9
2 Jeff Baxter M Men 40- 44 , 3:53.2
------------------------------------------------------------------
WOMEN 50-59
------------------------------------------------------------------
1 Angela Eagle F Women 5 50 , 4:06.4
2 Lisa Mears F Women 5 54 , 5:19.2