Member Spotlight: The Sedgewick Family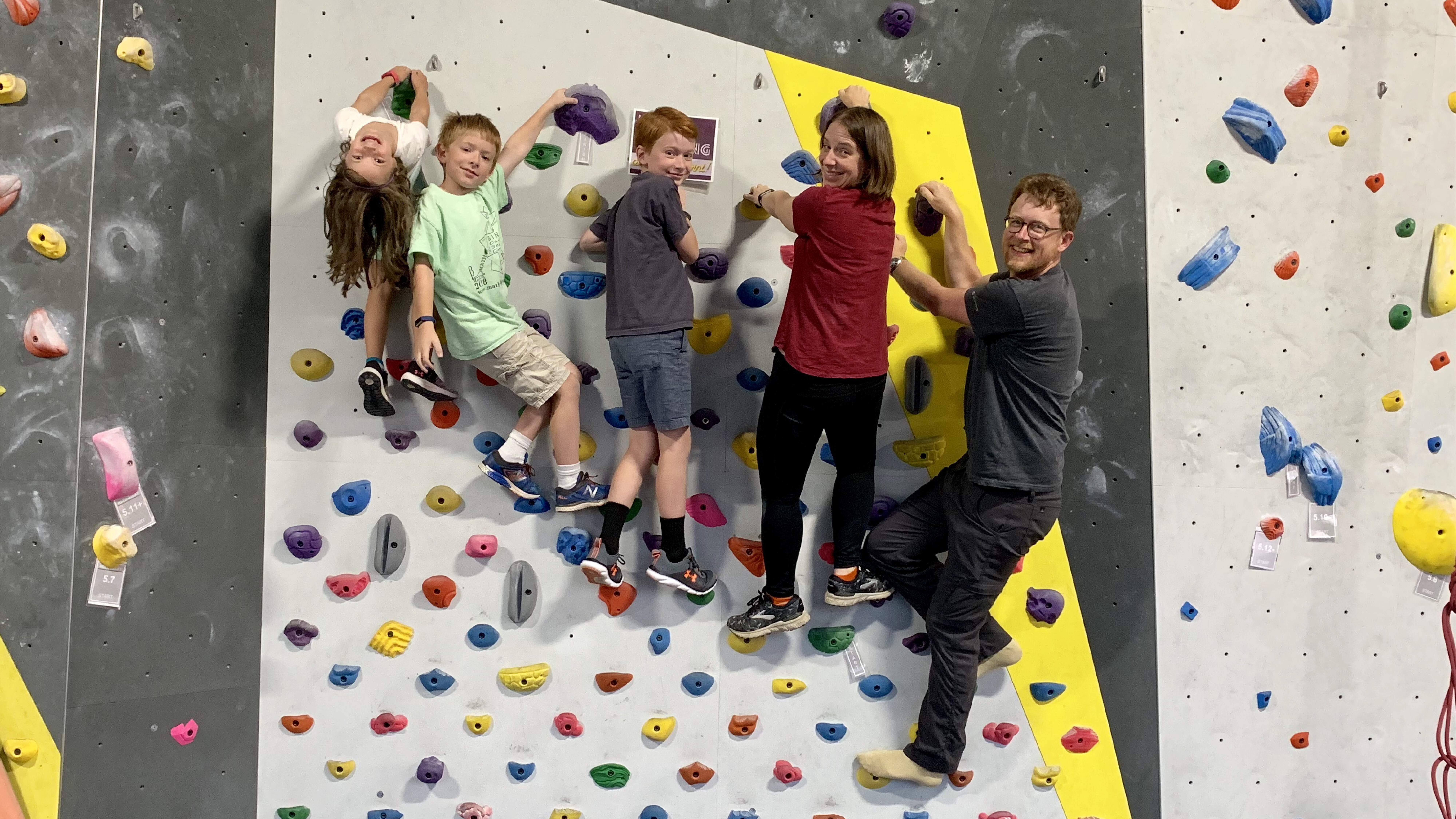 Meet the Sedgewick FamilyBy Luke Alpert
 In summer 2018, Jessica and Robert Sedgewick signed their three children up for ASCEND Summer Camp. 
"I signed them up for half day camp, because I wasn't sure if they would like it. Then there were some complaints that I hadn't signed them up for full day, so I knew we'd found a winning activity." Jessica says as all five of the Sedgewick's gathered around a kitchenette table after Tuesday night's A-Team practice. 
Robert and Jessica are raising sixth generation Pittsburghers, Jessica says.
"It's pretty cool," Henry, the eldest says smiling. 
"My grandparents emigrated from Poland," Jessica says, "South Side was the epicenter of Slavic life in Pittsburgh at that time. It's cool that ASCEND is here"
"And with the backdrop." Robert adds.
"It's an amazing view." Jessica agrees.
"You can look out the windows while you're climbing," Robert says, "see the old churches, Southside, the skyline, the sunset. There probably aren't a lot of climbing gyms with better views in the world."
Since that first week, Henry (11), Peter (9), Rose (7), have been members of the recreational division of ASCEND's A-Team. 
"It's our Tuesday thing, it's what we do!" Rose says when I ask what they like about A-Team.
"That's another thing! After climbing we get to go to restaurants near here!" Peter adds.
"That's true we do do that after climbing." Jessica says.
"We get to go to the best place ever… Dive Bar!" Rose adds.
"The thing I like about summer camp," Henry, the eldest, says, "is that I have a friend who also likes climbing, and this summer we got to do it together."
"It's nice that they're learning something that they can do as a lifetime sport." Jessica says, "You see so many college students here, and when you're old like us, you can go do it too. You feel like they're learning skills now and comfortability now, it's something that they can always do."
"It's also been great to see Rose get into the aerial gymnastics with Rachel and Vahid," Robert says. "I mean that was incredible to watch."
"And they were so nice about it, too!" Jessica adds, "I feel like not everyone would have taken the time to do that with a six year old, but they took so much time to work with Rose.
"And it's incredible to see them do that, to see what they helped Rose to do," Robert agrees.
The Sedgewick's first found climbing when they were looking for a new activity for Henry. In looking for new things, Robert says, "being able to climb with Henry," unlike other activities where you can at best be an observer as a parent, "was perfect."
"This is the only sporting activity that we get to do together." Jessica says, "which is really nice. It's nice to see all the progress that they've made. Today we got to the top-out boulder at the same time. So even though they're doing team and we're climbing, we get to be together. I would go to Karate and just sit there, and watch, you had to be quiet--this is much more fun."
"I like being able to see the kids," Jessica continues, "and I like how individual it is. It seems like something that, you'd feel kind of on display, like you'd be up on the wall and people would be watching. But everyone is just working on themselves, you don't feel self conscious about it, everyone is trying to improve their own performance."
"I like that too," says Henry.
"I mean," Jessica says, chuckling, "one morning this summer Robbie and I came climbing and I couldn't get this one climb. Robbie got it after a while. Then the next week we came to pick the kids up and Henry took us over to the same climb and asked if we'd watch him do it, and he just flew up." Henry smiles proudly.
"When kids are little, you're always trying to get them to keep up with you. But here, the tables have turned, and I watch them I see what they do and think, 'I can do that.' It's a really cool way to see visibly the growth of the kids." Jessica says.
When asked what he likes most about climbing Henry says, "I like what you feel when 
you finish a climb, how accomplished you feel."
"I like that I get to see my Mommy and Daddy when I'm doing it," Rose says.
"I like the top-rope wall," Peter says, "I like that you can go higher. 
Both Peter and Henry have a fear of heights. 
"Before I did climbing I had a fear of heights, and I still have a fear of heights, but now that I have climbing it's less so." Henry says. 
Peter, who's favorite part of climbing now is getting to the highest point in the gym, adds "I had less of a fear of heights, but definitely a fear, but now it's much lower."
"Even in non-climbing environments the fear is less." Jessica confirms.
"None of them were getting more than a few feet off the ground when they started," Robert says, "but now they can get to the top of the top out boulder."
"All of the kids have made so much progress," Jessica agrees. "It's so neat to see them do things that they absolutely could not have done when they started."
Now, with over a year of climbing under their belts, Henry, Peter, and Rose have become strong climbers and core members of the ASCEND youth team culture. [Check out Maggie & Nate's blog to read more about the young people shaping ASCEND's youth movement].
"I like people showing what I can climb. Sharing the climbing." Peter says.
"You get a social skill from talking to other people," Rose says, "from telling people what you did, and from telling yourself what you did."
"They get self-confidence." Jessica agrees.
"Some of the climbs are easy" Rose says, "and some are hard. There's so many things that feel so different. I like the different colors, and there are so many different shapes. Otherwise it would feel the same, but it's so different."
"I like that it's a good workout, getting stronger is important," Robert adds, "but there's a lot of technique to learn, which makes it more interesting, and as you learn technique you can  see rapid progress."
"I love all of the games that the coaches come up with to help the kids work one different aspects of climbing." Jessica says.
"I like that the climbing team gives away the awards!" Rose says.
"I like that too." Jessica agrees.
"I like how there are so many V0s and V1s, and some are easier and some are harder, so it feels different." Rose says. 
"In so many ways, it's a great place to be. People are so friendly." Jessica concludes. 
"Everyone is so friendly," Henry adds "if it's your first time, everybody wants to help you out."
"We've also enjoyed coming to non-climbing activities," Jessica continues, "the youth team party, to watch the competitions. I think we all feel comfortable here. It's not a parents' or a kids' place. We walk in and we all say, 'oh, this is our place.'"