ASCEND's Response to Coronavirus (COVID-19)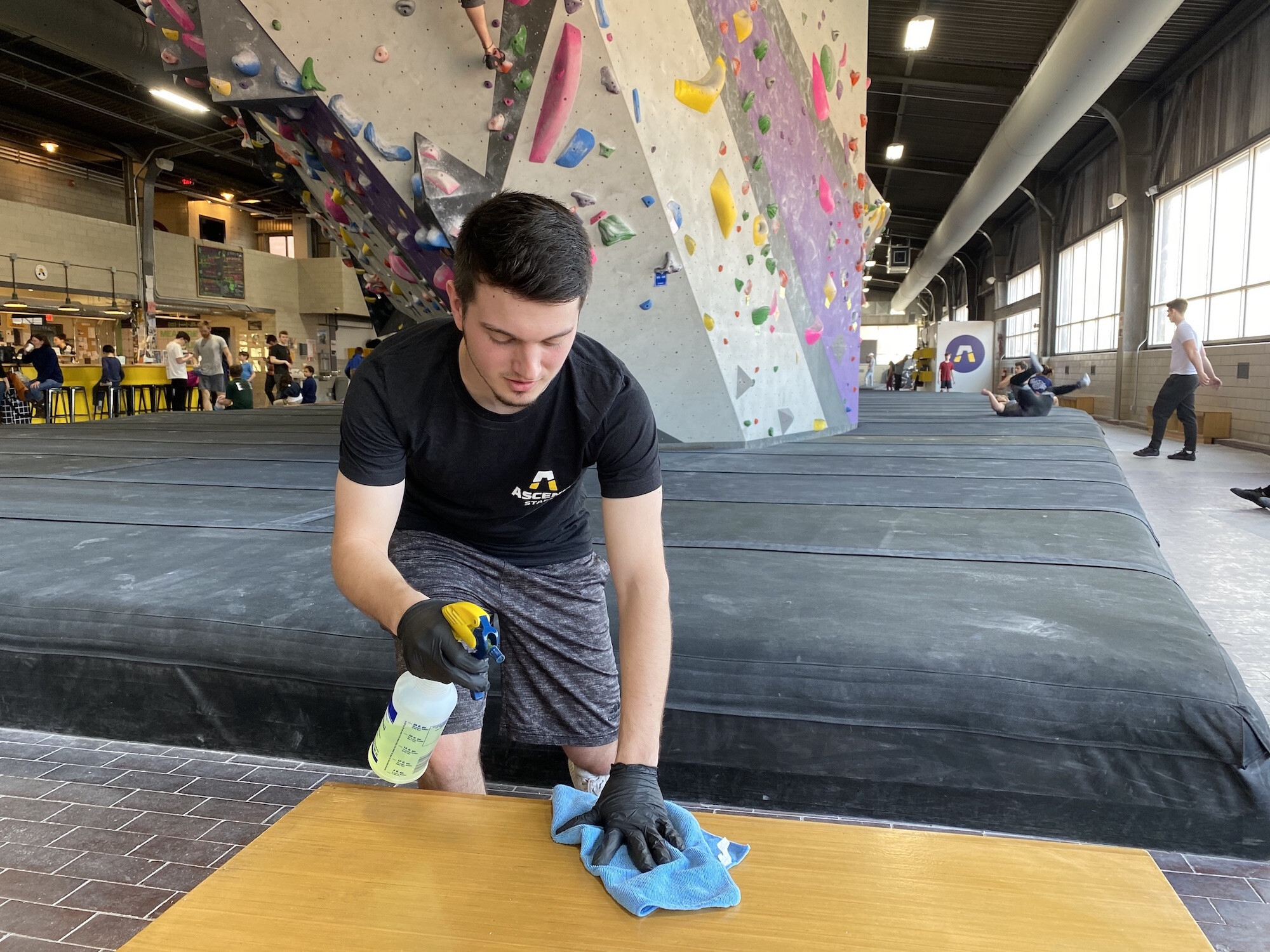 For the most up-to-date information, please visit our homepage.
Posted Saturday, March 19 [8:00p]
100% of ASCEND's operations, including togo retail, are closed until further notice.
Posted Saturday, March 14 [12:00p]
After much consideration, and in response to the coronavirus (COVID-19) caused pandemic, ASCEND will be closed to the public tomorrow, Sunday, March 15 through March 31. This closure window is of course subject to change. This incredibly difficult and important decision is rooted in the well-being of our employees, members, guests, and local community.
We know that this situation may be frustrating and confusing, and we share those emotions alongside our community members. This is an unprecedented global and national situation where much feels out of our control, however, we know that what is in our control is taking action and not standing idly by. In an attempt to remain a bastion of wellness, numerous partial-operation alternatives were considered, but with such fluid information made available, we feel that a full-closure is the best decision we are able to make. We are not public health experts, and therefore we are not equipped to assess this situation as it progresses, so we are choosing to join other leaders and institutions and take the most responsible road ahead of us.
The future is clearly unpredictable, but as this progresses and as we learn more information, we will share our plans for reopening our doors to the public. In the meantime, here is information on what you can expect and what we are doing:
MEMBERS
As March is only half-way over, we understand that we are not able to provide the services that we've promised you. However, we are sincerely asking those that are able, instead of requesting a partial refund of your dues that you allow us to put those dues to the best use possible: continuing to provide meaningful work and pay to our employees throughout this closure.If we do not feel confident that we'll be open long-term by April 1, we will not charge anyone for their April dues. If you've recently purchased a prepaid membership, we will extend the length remaining when we reopen.Monday - Friday during this closure, managers will be on-site from 10a - 4p to field customer inquiries via email and phone.
EMPLOYEES
During this closure, we are working with ALL employees to ensure pay continuity.
CUSTOMERS WHO HAVE BOOKED CLASSES AND PROGRAMMING
If you have booked programming with us that is scheduled to occur during this closure, we'll be working with you to reschedule or refund your booking. Stay tuned.
We sincerely thank you for your understanding and cooperation during this period. Please be well and make good social and travel decisions. We'll see you as soon as we can.
- ASCEND
Posted Friday, March 13 [8:30p]
Continuing our efforts to monitor the coronavirus (COVID-19) pandemic and take appropriate action, Big Free Yoga is canceled for tomorrow morning. We hope that you understand our decision, and please, take care of yourself and others within our community and beyond. We will likely be providing additional, notable updates tomorrow, so please stay tuned for more.
- ASCEND
Posted Thursday, March 12 [5:00p]
Visitors of ASCEND,
Our team has been closely monitoring the continuously changing coronavirus (COVID-19) situation in our area and beyond. While no climbing gyms have been linked to the spread of coronavirus, the safety and health of our members and guests has always been our top priority. As this pandemic begins to impact our local community, we are taking preventative measures. We wanted to take a moment to effectively communicate tangible information to you, our community.
On top of continuing to practice recommended hygiene practices:
Wash your hands with soap and water for at least 20 seconds or use alcohol-based hand sanitizer if soap and water are not available;Cover any coughs or sneezes with your elbow, not your hands;Clean surfaces frequently;And if you are sick, stay home until you are feeling better,
we also ask you to resist panicking and to continue to educate yourself. Here are some useful links:
PA Department of Health
OH Department of Health
Centers for Disease Control and Prevention (CDC)
A major note is that we are officially postponing our Anniversary Celebration + Member Party to a later date. Therefore, both competitions, retail sale, member guest perk, and the member party will not occur on Saturday, but we will remain open as usual and will still hold Big Free Yoga.
What we are doing:
Our team is, and has been for the last week, increasing our facility cleaning, including disinfecting all commonly touched surfaces throughout the day.Increasing customer access to disinfectant in fitness and yoga areas to clean equipment before and after use. Soft surfaces pose a special risk, so for those who enjoy the fitness area, please use the provided sanitizing spray and wipe down items after each use. For yoga, we will continue to have mats, blocks, and straps to borrow, and request that everyone clean each borrowed item with the provided sanitizing spray both before and after use. Please bring a clean towel to cover bolsters and blankets, or better yet, your own equipment.Rental chalk bags will no longer be available.Coffee service will be restricted to single use cups only - no personal mugs will be allowed.Shared utensils, plates, and other similar items will be removed from the kitchenette.Yoga class capacity is being reduced to 12 participants to allow for ample space between participants.Acro yoga classes are cancelled until further notice.Child Watch is cancelled until further notice.Parties and groups will be limited to ensure a lower load on the facility. Monitoring information provided by local, state and federal authorities in order to respond appropriately to this ever-evolving situation, including customer capacity guidelines that could impact guest access.
What you should do to help:
Minimize hand-to-hand transactions - we kindly request that visitors please pay with credit cards, as opposed to cash, and consider completing waivers or purchasing admission online, to minimize the use of our iPads and direct contact with our staff.Consider visiting during non-peak hours.When you're in the facility, try to keep space between yourself and other guests. Recommended distance is 6 feet.Be patient with our staff as we increase cleaning and other pertinent responsibilities.Be patient with us as we may potentially limit our offerings, programs, events, or perishable concessions items.If you've contracted the coronavirus (COVID-19), and have recently visited ASCEND, we ask that you consider informing us, so that we may take appropriate action.
We thank you for your continued support, patience, and assistance.
ASCEND