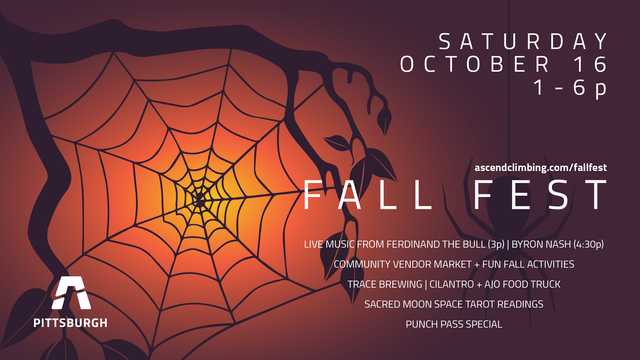 Photos from Fall Fest 2021 taken by Cat Schrading | Instagram @outdoor.cat
On Saturday, October 16th from 1p-6p we will be celebrating the change of seasons with a day filled with live music, community vendors, food, brews, and fall festivities! The event will take place outside at the corner of 22nd and Jane St. All are welcome! 
Community Vendors:Garden Hose Living DesignsRoot + Bloom FlowersBrenckle's Organic Farm + GreenhouseSouthwestern PA Climbers Coalition (SWPACC)Trace BrewingCilantro + AjoSweet Alchemy Bake ShopSips Mobile Bar Co.
Live Music:3P - Ferdinand the Bull4:30P - Byron Nash 
Throughout the afternoon there will also be tarot card readings with AJ from Sacred Moon Space and pumpkin painting with our very own artist, Jill Gilmore. 
Punch Pass Specials2 for $223 for $334 for $44Only available on-site and at Fall Fest!Stay tuned for more information about the Fall Fest Community Clean Up and fundraiser for our Equity and Outreach Programs!
Wait- there's more! If you identify as Queer, Trans, Femme, or a Woman, we invite you to join us from 6p-8p for our monthly QFTW Affinity Session.