6th ASCENDiversary Celebration!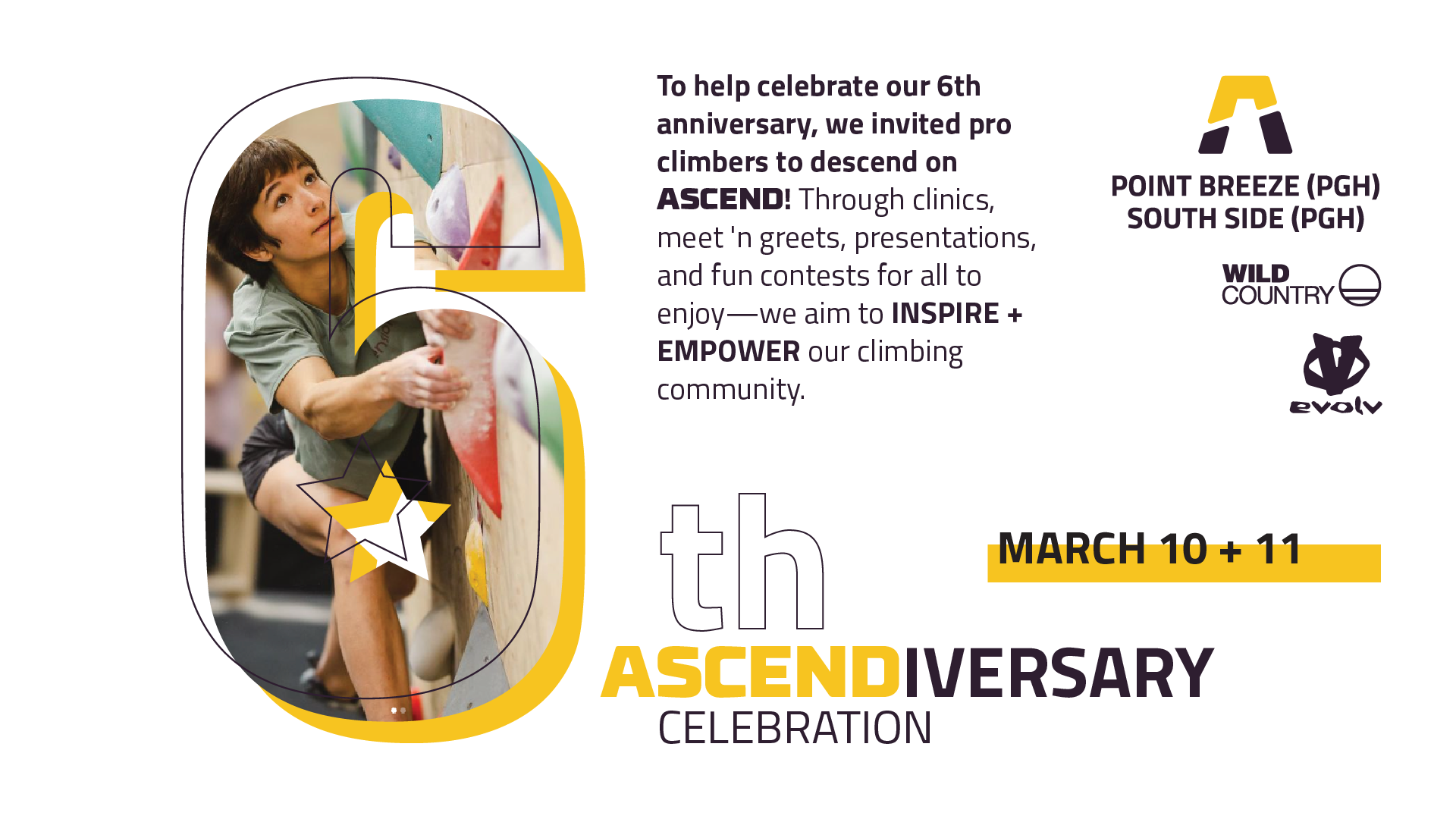 LEARN FROM THE PROS!To help celebrate our 6th anniversary, we invited
pro climbers to descend on ASCEND
! Through clinics, meet 'n greets, presentations, and fun contests for all to enjoy - we aim to
INSPIRE + EMPOWER
our climbing community. In partnership with
Evolv + Wild Country
, we are excited to showcase:
Mary Eden, Ben Mayforth, Kurt Smith, Joel Brady, Andrew Leich
, and of course,
YOU
, our beloved community of climbers.
Due to unexpected circumstances, Maya Madere is no long able to attend.
FRIDAY, MARCH 10 - ASCEND SOUTH SIDE
[5-7p] Casual Climbing Session with The Pros (Kurt, Ben, Mary, Joel, Andrew)[7-10p] Kurt Smith a.k.a. The General Slideshow + Community Storytelling Stories.See below for Kurt's impressive bio!We want to hear your stories, too! It'll be laid-back, fun, and informative!ASCEND will provide a limited supply of pizza and refreshments.
No registration needed to attend Friday's events! Normal facility admission (membership, day pass, punch pass) will get you access!
SATURDAY, MARCH 11 - ASCEND POINT BREEZE
[9a-4p] Crack Climbing and Adaptive Clinics: Led by Mary and Ben - 
REGISTER BELOW!Due to unexpected circumstances, Maya Madere is no long able to attend.
[All Day Long]Shoe + Gear Demos by Evolv and Wild Country: Plus 20% off all in-store purchases and special orders!Bounty Climbs: Some will be mega hard and some mega fun and experiential - something for everyone and all can win you big prizes and immense satisfaction!Special Feats-O-Strength Challenges:
Declining Sloper
 - Hang on as long as you can while we lower the adjustable wall!
Hanging Box Compression
 - How long can you compress a smooth wooden box?!
Roof Crack Laps
- How many laps can you complete in 3 minutes?[Evening Shenanigans][4-6p]
Climbing Session
with The Pros + Selfies, Autographs, and High-Fives.
NOTE: From 6p onward, the entire facility will be dedicated to the following events and open climbing and fitness will not be permitted. ASCEND South Side will also be closed at 6p that evening so that our team may enjoy the event themselves. Thank you for understanding!
FREE TO THE PUBLIC AFTER THIS POINT!
[6-7:30p]
Mind-Bending Presentations
from Mary Eden a.k.a Trad Princess a.k.a. Spray Lord, and also Local Legends and the 2022 Champions of 24 Hours of Horseshoe Hell, Joel Brady + Andrew Leich.The presentations will occur in the Slackline area and will involve time for some Q&A.[7:30-8:30p]
Pro Climber Contests
+ SWPACC/Access Fund Fundraiser - Epic head to head contests for us all to lose our voices during.You don't have to pay to play, but donating to SWPACC to help reach their financial and membership goals is strongly encouraged. The pros will dig extra deep knowing they are helping raise funds for our beloved LCO! During each contest, you'll choose which pro you think is going to win. If your pro wins, then you have a chance to win a big prize!LEAD BOUNTY FLASH - Which pro can flash the hard lead bounty route!?BOULDER BOUNTY REDPOINT - Some of the pros will try to redpoint the hard boulder bounty problem!ROOF CRACK LAPS - How many laps can the pros do in 3 minutes?!DECLINING SLOPER - At which angle will the pros fall off!?HANGING BOX COMPRESSION - For how long can the pros compress!?LEED SPEED - How many lead routes can Joel and Andrew send in 10 minutes?![8:30-10:30p]
Community Contests
+ SWPACC/Access Fund Fundraiser - Monumental Crate-Stacking Contest + Crash Pad Sumo Wrestling (sponsored by
Organic Climbing
)
Crate-Stacking Contest
- We're asking for 10 skilled tower builders to step and compete in this electrifying competition. $50 per person, which means $500 goes straight to SWPACC! For those in our community who have the money to spare, go find yourself a young crusher to sponsor! All competitors will win something fun, but the 1st, 2nd, and 3rd place finishers will take home premium prizes!
Crash Pad Sumo Wrestling
- $20 per person to enter, all proceeds benefit SWPACC. Participants will be divided into two categoies MTNB (Men, Trans, Non-Binary) + WTNB (Women, Trans, Non-Binary), and will be placed into a single elimination bracket. Our goal is to find at least 10 participants in each category. The winner of each category will win an Organic crashpad![Vendors]
Blume Honey Water
will offer samples on Friday night from 5-7p and Saturday from 11a-2p.
Press House Coffee
will serve fresh coffee from 9a-12p.
Cinderlands Brewing
 +
Goodlander Cocktail Brewery
will be cracking cold ones and slinging cocktails from 6-10p.
Ash & Kris Food Truck
will be on site from 4-9p.
La Palapa Food Truck
will be on site from 4-9p.
CRACK CLINIC w/ MARY EDEN 11a-1p
CRACK CLINIC w/ MARY EDEN 2p-4p
INTRO TO ADAPTIVE CLIMBING w/ BEN MAYFORTH 9a-11a
BELAYING  ADAPTIVE CLIMBERS w/ BEN MAYFORTH 2p-4p
Mary Eden Bio
Mary Eden, one of the leading crack climbers in the world, has sent some of the most challenging crack climbs in the US. She has tackled physically demanding and mentally taxing climbs ranging from notorious off-widths all the way down through the sizes to literal nail-biting finger cracks.
Through her social media, videos, and series of Girls Gone Wide movies, Mary has helped to inspire numerous women specifically into the sport of trad climbing – a side of climbing in which women have historically been under-represented. Mary's inspiration of a new generation of female trad climbers, is one the filmmakers can personally attest to hearing from many new climbers drawn to the crag, inspired from Mary's shared stories and films.
In October, 2022, Mary Eden launched her professional climbing career with her successful effort to climb Necronomicon. Necronomicon (5.14a) is the imposing and seemingly impossible 100-foot roof crack overlooking an over 1,000-foot drop into the base of Canyonlands National Park, Utah. With her ascent, Mary became part of an elite group of women to have climbed 14a on gear, and she trained relentlessly to do so.
Kurt Smith Bio 
Kurt Smith grew up in Lake Tahoe and first faced off with Yosemite's big walls and rock climbs in 1980. 43 years and thousands of routes later, his accomplishments include three years of competing on the National and World Cup circuit, with wins at the Nationals, twelfth place at the World Cup in 1992, plus a top-20 ranking. He has spent 4 decades opening up new routes in Yosemite, Joshua Tree, Clear Creek Canyon, Rifle, El Potrero Chico, Mexico and other popular climbing areas, with a mission to create "the best lines regardless of the grade." With over 500 First Ascents under his belt he is not slowing down in his quest for new lines.
But the apogee of his involvement with climbing may be his affiliation and work with the Access Fund (www.accessfund.org) over the years, and his Kickin' Access Tours.  Rock & Ice Magazine named the Kickin Access Tour number 7 of the "Top 10 Most Important Climbing Events of 2001." Kurt spent 6 years crisscrossing the country to throw these climber access events, raising over $100,000 and signing up over 3000 members for the Access Fund. Due to Kurt's huge success in his fundraising efforts for the AF, he was elected to the AF's Board of Directors in 2001, on which he served a 3-year term.  
Kurt has called the New River Gorge, WV home for the last 19 years and is the owner of Top Gun Sales. This sales agency is proud to represent Sterling Rope, Evolv, Nemo Equipment, BioLite, Wild Country, Lifestraw, Forsake and Salewa. His territory covers the South East and the Great Lakes and has three amazing employees in Chaz Warren, Wes Napier and Jay Peery. His greatest achievement is being a dad with his 8 year old son, Milo and wife Pei Lee Ren!
Most Memorable Ascents
1984 Yosemite
4nd ascent of Midnight Lighting V8 3rd ascent of Bachar-Yerian 5.11+First ascent of Burning Down the House 5.11+ 9 pitchesOnsite of Crimson Cringe 5.12 my first 5.12 Onsight.West Face of El Capitan – all free in a day- 5.11+ 15 pitches 
1986 Yosemite
First ascent of Electric Africa 5.12+First ascent of Blackout 5.11+First ascent of Farewell To Kings 5.12 9 pitchesOnsite of Tales of Power 5.12+Onsite of Astroman 5.11+
1988 Yosemite/Joshua Tree/Colorado
First ascent of General Dynamics 5.13 First ascent of Hold Your Fire 5.13First ascent of Duncecap 5.13First ascent of Knucklehead 5.13
1989/92 Colorado
First ascent of Sonic Youth 5.12+First ascent of Vision Thing 5.13First ascent of Daydream Nation 5.13First ascent of Slice of Life 5.13+ Onsite of Anti-Phil 5.13
1994 Yosemite/Yukon
First almost free ascent of the Muir Wall 5.13 34 pitchesFirst ascent of Yukon Tears 5.13 18 pitches Mt. Proboscis  
1994/2000 Potrero Chico
First ascent of El Camino del Diablo 5.13+First ascent of Surfer Rosa 5.13First ascent of Time for Livin' 5.13 6 pitchesFirst ascent of Roman Holiday 5.13 6 pitchesFirst ascent of El Sendero Luminiso 5.12+ 15 pitches