Steel Town Throw Down Series '20-21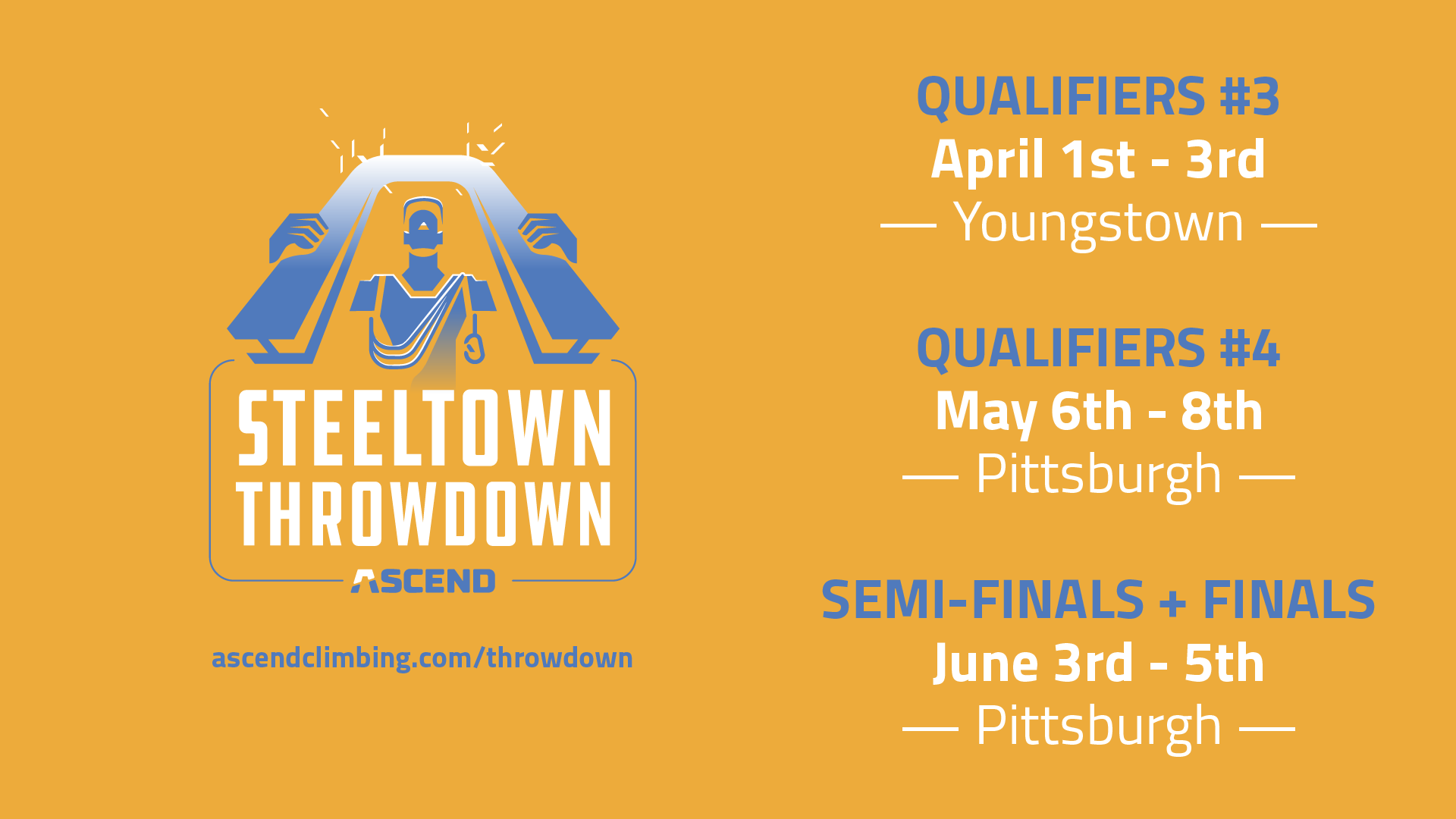 Get ready Pittsburgh and Youngstown, for ASCEND's biggest and bestest Steel Town Throw Down yet! In a 5 event-series, we'll have 4 qualification competitions culminating in a weekend of semi-final and final rounds for Recreational, Intermediate, and Advanced climbers. And with prizes and awards given at every competition, and cumulative perks, there's no reason not to register for the whole series! Born out of COVID precautions, but inspired by other great climbing competitions, we believe that this new format will be more engaging, more inclusive, and more fun. This new format is intentionally designed to encourage our newer and apprehensive climbers, as well as to satisfy our fiercest competitors. There's a lot to it, so read below to get all of the answers!
DATES + REGISTRATION
Qualifier #1: October 8 - 10 (ASCEND Pittsburgh - Blue Wall)
Qualifier #2: November 5 - 7 (ASCEND Pittsburgh - Orange Wall)
Qualifier #3: April 1 - 3 (ASCEND Youngstown - Cave Side)
Qualifier #4: May 6 - 8 (ASCEND Pittsburgh - Purple Wall)
Semi-Finals + Finals: June 3 - 5 (ASCEND Pittsburgh)
SERIES FORMAT
Participants will start their journey by competing in one or more Qualifying Round, with the goal of earning an invitation to Semi-Finals, or simply having some fun while testing themselves! Then, semi-finalists will compete for a chance to battle it out head-to-head in Finals! In order to be invited to compete in the Semi-Finals, competitors must place in the top 5 within their Category [Men, Trans, Non Binary (MTNB) + Women, Trans, Non Binary (WTNB)] and Division [Recreational + Intermediate + Advanced] - for a total of 30 moving on from each qualifying round. Semi-finals will begin with exactly 120 competitors, 20 MTNB and 20 WTNB from all 3 divisions. At the conclusion of Semi-Finals, the top 6 MTNB and top 6 WTNB from each division will compete in a massive, and super awesome, on-sight finals event!
QUALIFIERS: Qualifiers will follow a standard redpoint format, each consisting of exactly 35 problems, ranging from 100 pts. to 3,500 pts, gradually increasing in difficulty from 1 - 35. Competitors will have 3 hours to try and complete as many boulders as they choose, but only counting their 5 top scores. Flashes will receive full point values, whereas subsequent attempts will yield minor deductions. Scores will be self judged as there will not be dedicated volunteer judges for every session, though, an ASCEND Steel Town Throw Down representative will be available each session to assist where needed.
Each qualifying round will take place on a dedicated, cohesive section of terrain (blue wall, orange wall, etc), and will be exclusively reserved for competitors until the qualifying round has ended. Each qualifying round will generally run from Thursday evening through Saturday night, unless high demand warrants additional sessions on Sunday. Sessions are 3-hours long, and each session will max out at circa 30 people. The rest of the facility will be open to the public, but capacity will be reduced to accommodate both user groups.
Results and Semi-Finals invitations will be announced as soon as possible after the conclusion of the entire qualifying event, likely early the following week. Competitors may only compete in one session per qualifying event, but are strongly encouraged to compete in mALLtiple qualifiers since there are cumulative incentives as well! (Keep reading...) The cost for each Qualifier is $15 for members or $30 for non-members.
SEMI-FINALS: Semi-finals will run identically as qualifying events, Thursday evening - Saturday morning, and are likely to be held on ASCEND Pittsburgh's Blue Wall. 120 competitors will enter, but only 36 will move to finals. An invitation to Semi-Finals is just an invitation, and the cost is $25 for members or $40 for non-members.
FINALS: All divisions of Finals will run under the same format from one another, beginning with Recreation, then Intermediate, and finally Advanced. Finalists will work through 4 problems, one at a time, in front of a live audience. After a brief preview, each finalist will have 4 minutes to try and on-sight each problem with rest in between. Finals will begin sometime Saturday afternoon and continue into the evening. There is no additional cost to compete in finals.
One of the most exciting aspects of this format, is the opportunity to provide a true Finals experience to our less-experienced, but equally as awesome competitors. Hooray!
GO HERE FOR MORE ON SEMI-FINALS + FINALS
[and scroll to the Semi-Finals + Finals section]
SPONSORED AWARDS + PRIZES
Each qualifying round, the top finishers of each Category and Division will take home premium swag, valued at circa $100 for each winner, from our incredible QUALIFIER SPONSORS. We love them and so should you! We'll be featuring products from these great brands in our stores throughout the series, so stop on in and see what's good.
WILD COUNTRY
 (October)
FRICTION LABS
 (November)
EDELRID
 (April)
ORGANIC CLIMBING
 (May)
EVOLV
 (June)
We also got some sweet swag from some other great FRIEND SPONSORS that we'll dole out throughout the series.
Birdfish Brewing
Petzl
Black Diamond
All finalists will battle it out for cold hard cash and prizes!
1st Place ADV
$300 + Champion Trophy + Name Memorialized Champion Wall
1st Place INT
$200 + Trophy
1st Place REC
$150 + Trophy
2nd Place ADV
Evolv Approach Shoe Certificate + Evolv Tape
2nd Place INT
Evolv Approach Shoe Certificate + Evolv Tape
2nd Place REC
Evolv Climbing Shoe Certificate + Evolv Brush
3rd Place ADV
Black Diamond Rock Blitz Pack + Metolius Wood Rock Ring + Evolv Brush
3rd Place INT
Petzl Corax Harness + Evolv Brush
3rd Place REC
Black Diamond ATC/Carabiner Combo + Evolv Brush
4th Place ADV
Metolius Chalk Bucket + Petzl Tikka Headlamp + Evolv Brush
4th Place INT
Metolius Helium Quickdraw + 5 Helium Carabiner + Evolv Brush
4th Place REC
Petzl Chalk Bag + Petzl Chalk + Evolv Brush
5th Place ADV
Metolius Rope Bag + Evolv Chalk + Evolv Brush
5th Place INT
Evolv Chalk Bag + Evolv Chalk
5th Place RECEvolv Chalk Bag
 + Evolv Brush
6th Place ADV
Metolius 5-pack Quickdraws, Evolv Chalk6th Place INT
Evolv Chalk Bag + Evolv Chalk
6th Place REC
Evolv Chalk + Evolv Brush
Interested in learning more about SPONSORSHIP OPPORTUNITIES?
CUMULATIVE BONUSES
Sure, we value talented climbing, but we also value participation and determination! Aaaand we love giving away sweet prizes and doting on our competitors as much as possible. Thus, we're tossing in two fun incentives to come out and compete for as many qualifying rounds as possible.
RAFFLE: Competitors will receive 1 raffle ticket for every qualifying round for which they register, but registering for all 4 rounds will land you a bonus of 4 additional tickets, for a maximum of 8! Shortly before Finals, we'll give away (you don't have to be present and will go live in Instagram):
4 ASCEND Memberships for 12 months4 ASCEND Memberships for 6 months4 ASCEND Memberships for 3 months4 ASCEND Memberships for 1 month
TOP CUMULATIVE SCORERS: Tallying top 5 scores from each qualifying round, we'll proudly present each Category's cumulative scorers for each Division. They will have shown up, and thrown down, more consistently than anyone else. For their valiant efforts, each will receive a $50 ASCEND Gift Card and of course... supreme bragging rights!
STEEL TOWN THROW DOWN SWAG 
In addition to a t-shirt, we're also slinging patches, and super cool stickers and pins from our favorite sticker maker Sticker Mule, so that you can most optimally sport your love for competition, ASCEND, and the Rust Belt region! Available products will be optional add-ons when registering for each round. See below for mock-ups!
FAQ
How are the Recreation, Intermediate, and Advanced divisions determined?
Competitors will self-select their division based on an honest assessment of one's climbing ability. Here are the benchmarks that we recommend:Recreation: V1-V3 | consistently sends purple circuit (V1-V3), often sends yellow circuit (V2-V4), works on blue circuit (V3-V5)Intermediate: V3-V5 | consistently sends blue circuit (V3-V5), often sends orange circuit (V4-V6), works on pink circuit (V5-V7)Advanced: V6+ | consistently sends pink circuit (V5-V7), often sends red circuit (V6-V8), works on white circuit (V7-V9)
What if someone who has already been invited to Semi-Finals places in the top 5 in a subsequent qualifying round?
Competitors who have already received an invitation to Semi-Finals will not receive a second invite, rather, the top 5 competitors, excluding previous top finishers will be invited. For example, if the top 3 finishers of a later qualifying round have already been invited, finishers 4-8 would instead be invited.
What if an invited semi-finalist cannot attend semi-finals?
In the event that any invited semi-finalists cannot attend, the next highest scorers from the 4 qualifying rounds will be invited. This process will occur sometime in mid-May.
What if a competitor notably out/underperforms the rest of the division? 
ASCEND's goal is to host a fair and equitable competition, not only by attempting to prevent and adjust for intentional foul-play, but by ensuring that all competitors are competing against the most appropriate peers. We will do our best to outline the mechanisms in place to control these factors, but we also ask for your trust, patience, and understanding as we work with you on making this a wonderful and transparent experience for all who are involved. For more on this, visit our
competition results page
.
How will scores be marked and tallied?
Competitors will turn in scorecards at the end of each competition, and within a few days, scores and rankings will be published online.
Will you be closed to the public during these competitions?
Nope, except for the finals rounds. We're doing our best to remain as open as possible to the public, including comp preparations. That being said, some areas of the facility will be closed at times. We'll do our best to clearly communicate any notable closures.Typically, assume that the competition wall will be closed beginning the Monday before each competition.
Is there a separate youth division?
No, but youth competitors are more than welcome to compete in which ever division suits the best.
May I arrive early to warm-up?
Yes! But please no more than 30 minutes, and we ask that you refrain from watching the other competitors.