Interview with a Champion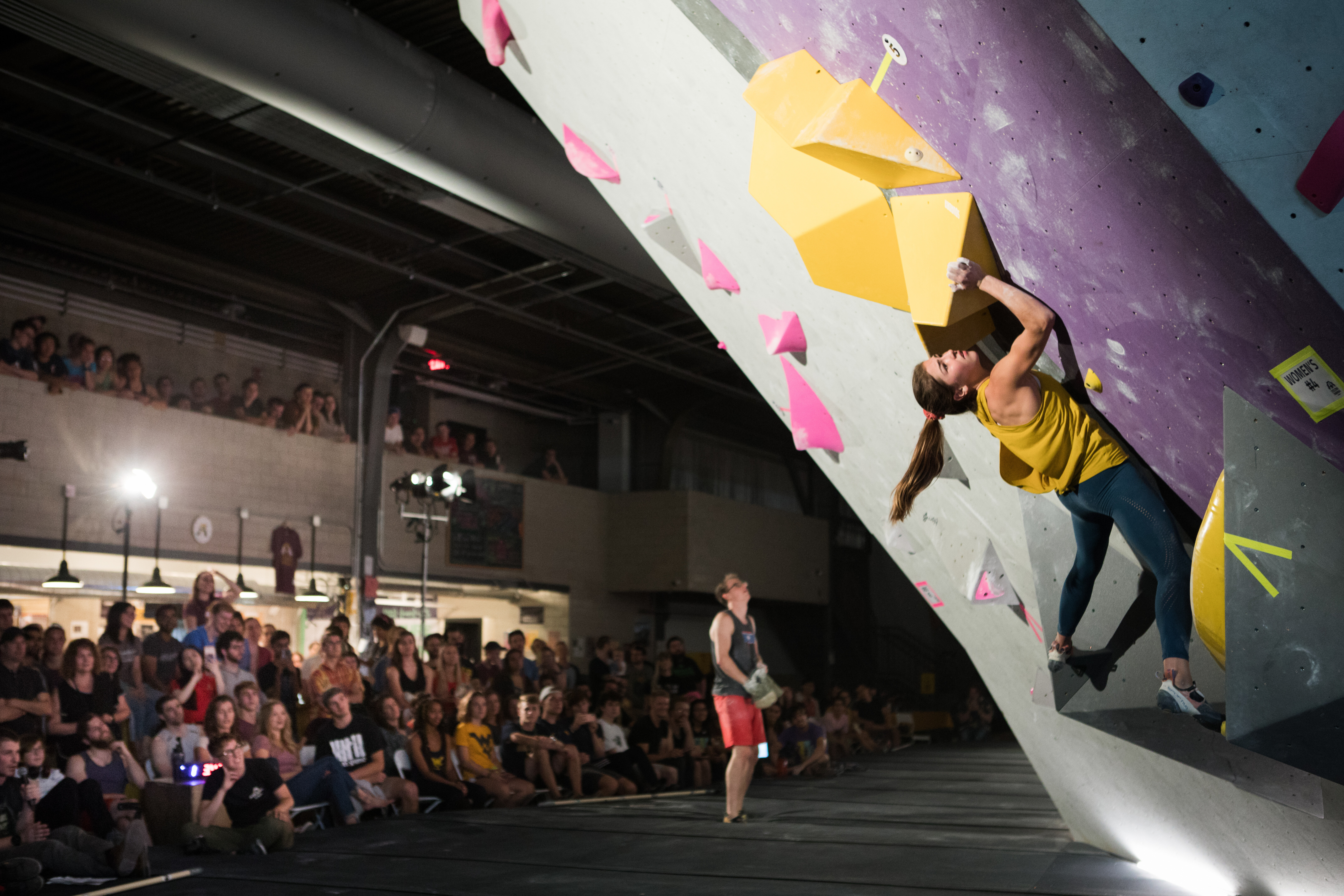 By Luke Alpert
Get to know Olivia Kosanovich, the 14 year-old phenom who stormed ASCEND's walls and took home the Steel Town Throw Down crown. 
Where are you from? How old are you? What grade are you in? I'm from Boulder, Colorado. I'm 14 years old and in 9th grade.
What other activities fill your days? What are some of your other interests/passions?My days are incredibly full.  I love school and that is my first focus and passion.  Apart from that (and climbing), I also run Cross Country and Track and Field (High Jump and 400 are my focus). I also really enjoy watching football with my Dad…GO STEELERS! 
How did you find ASCEND/the Steeltown Throwdown? I know you have family in Pittsburgh, is it all of your family? Have they been in Pittsburgh for a long time? What does Pittsburgh mean to you?I first heard about ASCEND prior to it being built when you guys just started putting the info out to the public.  When we travel, I always look for a local climbing gym to connect to and have been wanting to get to ASCEND since it opened.  My Dad is from Pittsburgh, as are my Grandfathers on both sides. The family immigrated from Serbia to the South Side in the early 1900s and worked in the Steels Mills. I still have cousins in Pittsburgh, but most everyone else has moved away.
When did you start climbing? Do you only boulder or do you prefer another discipline?I started climbing around the age of 9, and I Boulder, Sport and Speed climb.  
Do you climb outside at all? Where's your favorite place to climb outside?I actually climb outside quite a bit.  Living in Colorado we have access to some of the most amazing areas.  Outside of Colorado though, Hueco Tanks and Joes Valley are my favorite areas to Boulder, and Kalymnos, Greece is my FAVORITE rope climbing area.
What was your favorite part of the Steel Town Throw Down?Favorite part of the comp is definitely finals when the crowd is cheering for the climbers.  It's exhilarating…such a great feeling!
Do you compete often?I compete in all three disciplines, and the past several years I have been fortunate to be able to attend Nationals in all three, and have been National Champ in my age group a few times in Bouldering as well as Speed Climbig
You're 14, you're far from home, you walk into ASCEND (or any other comp) what is going through your mind?When I travel and walk into a new comp and I see a bunch of people climbing, I generally feel at home because that's what it is like training in the gyms in Boulder.  I'm usually psyched to just meet some new people and watch everyone who loves climbing the same way I do and put it all out there. The climbing community is incredible…so welcoming no matter where you are.
How do you prepare for a competition? Do you have any rituals/superstitions? How do you train?Preparation for a comp usually starts with a super healthy meal that's going to keep me fueled for the day.  Aside from that, it's really just managing the anticipation and excitement and not driving my parents crazy ;)
There have definitely been people talking about how fierce a climber you are and how great of a role model you are for young people competing/getting more involved in climbing. How does it feel to be a role model in general, and especially for girls/women?The idea of being a role model is so foreign to me.  Honestly, I do this because I love it, and if someone, somewhere looks up to me, I just hope I don't disappoint them!  I would love knowing that a young girl out there started climbing because they saw what I do. I think climbing is such an incredible sport for everyone, but speaking of what I know, its especially great for young girls because it really does focus on being strong, and fierce, and independent, and really learning to use your brain to read beta.  While it's ultimately an individual sport, there is always a 'team' of climbers there to lift you up and cheer on your success. 
What drives you to excel in climbing and elsewhere in your life? What are some of your goals, both for climbing and beyond?As my mom says, I was born and immediately was motivated to get things done.  I am an only child, and I think that's one of the biggest motivators for always wanting to be busy and to make my parents proud.  I have been uber-competitive for as long as I can remember…I really enjoy doing my best and giving it my all. My goal for bouldering this year is to podium at Nationals.  My sports goal was sending Sonic Youth (13a) which I did about a month ago, so I'm in the process of finding a new sport project/goal. Long term life goal is to become either an epidemiologist or a cardiothoracic surgeon. I've been interested in medicine for as long as I can remember and I don't see that changing anytime soon.
What is the number one place you want to climb on planet earth?The number one place I want to climb is the Rocklands in South Africa……MEGA dream!
Congratulations again to Olivia! Definitely come back to climb with us when your in Pittsburgh!
Cover Photo: Tara BennettGallery Photos: Sara Middleton